Posts Tagged 'Ali A. Rizvi'
Ali A. Rizvi vs. C. J. Werleman
or
Reformer vs. Regressive
The Rizvi/Werleman clash exemplifies this dialectic:  reformed Islam vs. regressive Islam. At crux is the idea of cultural superiority or ethnic superiority. You cannot believe in both. You either believe cultures are equal but human subgroups are not (this makes you a bigot). OR:  you believe that humans deserve equal treatment but cultures do not (this makes you a humanist).
Example:  See Sarah Haider vs. Reza Aslan. Cultures that believe women/minorities (ethnic and religious)/homosexuals are inferior are, in fact, inferior to cultures that think women/minorities (ethnic and religious)/homosexuals deserve equal rights. The Reformer pushes humanism, the Regressive protects bigotry.
Reformer:  One standard, believes humans deserve equal treatment but cultures don't, objectively looks at religious texts; thinks South Asians, Africans, & Middle Easterners want equal rights, progress, and are able to enjoy and utilize free speech, including criticism.
Regressive:  Two standards, believes cultures deserve equal treatment but humans don't, selectively looks at religious texts; thinks South Asians, Africans, & Middle Easterners cannot handle equal rights or criticism.
Here are some past, present, and future battlers in this competition of ideas:
Reformer                                 VS.                                    Regressive
Raif Badawi (imprisoned)                                                            Ben Affleck
Karima Bennoune (father assassinated)                                        Reza Aslan
Bassem Eid                                                                               Max Blumenthal
Mona Eltahawy                                                                        Glenn Greenwald
Sarah Haider                                                                                 Mehdi Hasan
Pervez Hoodbhoy                                                                  Ibrahim Hooper
Waleed Al Husseini                                                                     Nathan Lean
Kenan Malik                                                                           Dean Obeidallah
Irshad Manji                                                                                         Mo Ansar
Faisal Saeed al Mutar                                                            Murtaza Hussain
Maajid Nawaz                                                                              Rula Jebreal
Asra Nomani                                                                             Linda Sarsour
Raheel Raza                                                                 David Shariatmadari
Ali A . Rizvi                                                                         C.J. Werleman
Ziauddin Sardar                                                                     Cenk Uygur
Malala Yousafzai                                                                 Sayeeda Warsi
Bassem Youssef                                                                     Harris Zafar
For more on reformers and regressives, check out:
Who's Who in Islam
Muslim Group Calls Out PC Culture for Being too Afraid to Take Down Islamic Extremism
The Regressive Shuffle – Connor McKenna
2015 – Rise of the Regressive
Time for Self-Examination – WaPost
Sarah Haider hopefully will be a leading voice of ex-Muslims, joining Ali A. Rizvi and others. CNN should have her take on Aslan.
"(in) Indonesia, women are absolutely 100 percent equal to men." – Reza Aslan
"…there is record of FGM common in Asian countries like Indonesia (study) and Malaysia." – Sarah Haider
Further reading, Haider, at Patheos, her Reza Aslan Is Wrong About Islam and This Is Why, with over 2,700 comments. She produces rebuttals with research, and as she likes to say, the reader is free to "fact check the fact check."
Also:  Reza claims that Indonesia gives women "100%" equal rights.
Indonesian women whipped under Shariah
The Fantasy World of Reza Aslan
Reza Aslan Cannot Be Trusted – David Pakman Show
Ali A. Rizvi, author of The Atheist Muslim (forthcoming from St. Martins), and man with a sense of humor, shared the following:
Letter to Ali:
"How do you manage to look at your Muslim family, knowing your (sic) supporting men that want to strip away Muslim human rights and the dignity of your family, stop Islamic immigration (As highlighted in Sam Harris's Letter to a Christian Nation) and other things. You think religion is inherently evil? Fine. But Islam isn't unique in it's teachings on this subject in any way.

Maajid Nawaz at least acknowledges that, (sic) there is a religious component, but also political.
You wonder why Kashif 'Mr. Banana' Chaudhry gets on your ass so much? This is why."
Ali's Response: 
"The only people who actually wanted to take away my Muslim family's rights or mine were the governments of Muslim majority countries, as well as the societies within them. Secular society is the only system that gives both Muslims and apostates the rights they deserve.
As for the false religion-politics dichotomy: the Abrahamic religions are inherently political. Holding masses of billions to archaic codes of belief and behavior, and manipulating them with promises of eternal reward or horrific torture – is inherently political – and fascist.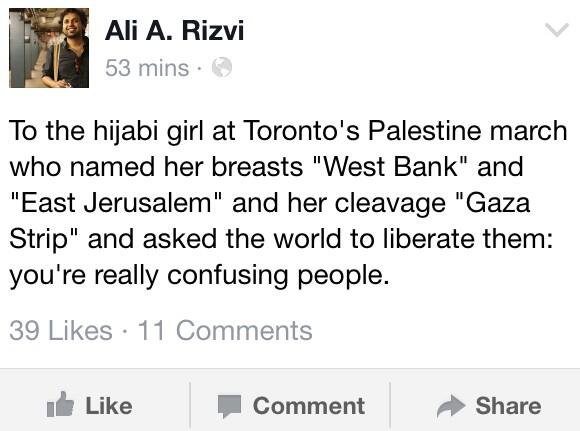 I don't judge Islam by the acts of a few, whether it's people like you and Reza Aslan, or ISIS and Al Qaeda. I judge it by the one thing that is common to all of them – the Quran. And I assume its writer actually meant the words he wrote. If everything has 20 different interpretations, the writer is either grossly inarticulate or grossly incompetent. I don't buy the idea that distortions of words and sentences to mean the opposite of what they say is a form of 'interpretation'. If you're interpreting 'beat your wife' to mean 'women are equal to men' – you lose credibility."