Letter to Ali A Rizvi
Ali A. Rizvi, author of The Atheist Muslim (forthcoming from St. Martins), and man with a sense of humor, shared the following:
Letter to Ali:
"How do you manage to look at your Muslim family, knowing your (sic) supporting men that want to strip away Muslim human rights and the dignity of your family, stop Islamic immigration (As highlighted in Sam Harris's Letter to a Christian Nation) and other things. You think religion is inherently evil? Fine. But Islam isn't unique in it's teachings on this subject in any way.

Maajid Nawaz at least acknowledges that, (sic) there is a religious component, but also political.
You wonder why Kashif 'Mr. Banana' Chaudhry gets on your ass so much? This is why."
Ali's Response: 
"The only people who actually wanted to take away my Muslim family's rights or mine were the governments of Muslim majority countries, as well as the societies within them. Secular society is the only system that gives both Muslims and apostates the rights they deserve.
As for the false religion-politics dichotomy: the Abrahamic religions are inherently political. Holding masses of billions to archaic codes of belief and behavior, and manipulating them with promises of eternal reward or horrific torture – is inherently political – and fascist.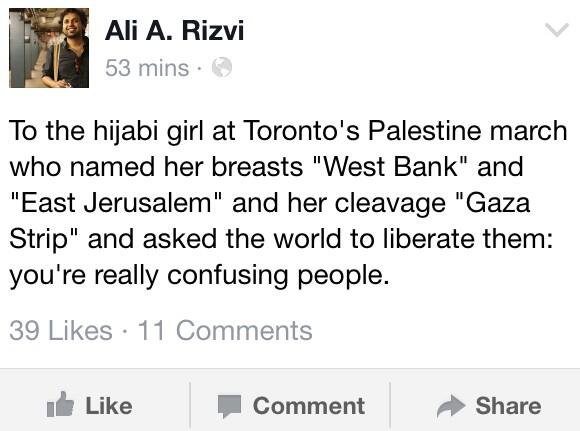 I don't judge Islam by the acts of a few, whether it's people like you and Reza Aslan, or ISIS and Al Qaeda. I judge it by the one thing that is common to all of them – the Quran. And I assume its writer actually meant the words he wrote. If everything has 20 different interpretations, the writer is either grossly inarticulate or grossly incompetent. I don't buy the idea that distortions of words and sentences to mean the opposite of what they say is a form of 'interpretation'. If you're interpreting 'beat your wife' to mean 'women are equal to men' – you lose credibility."